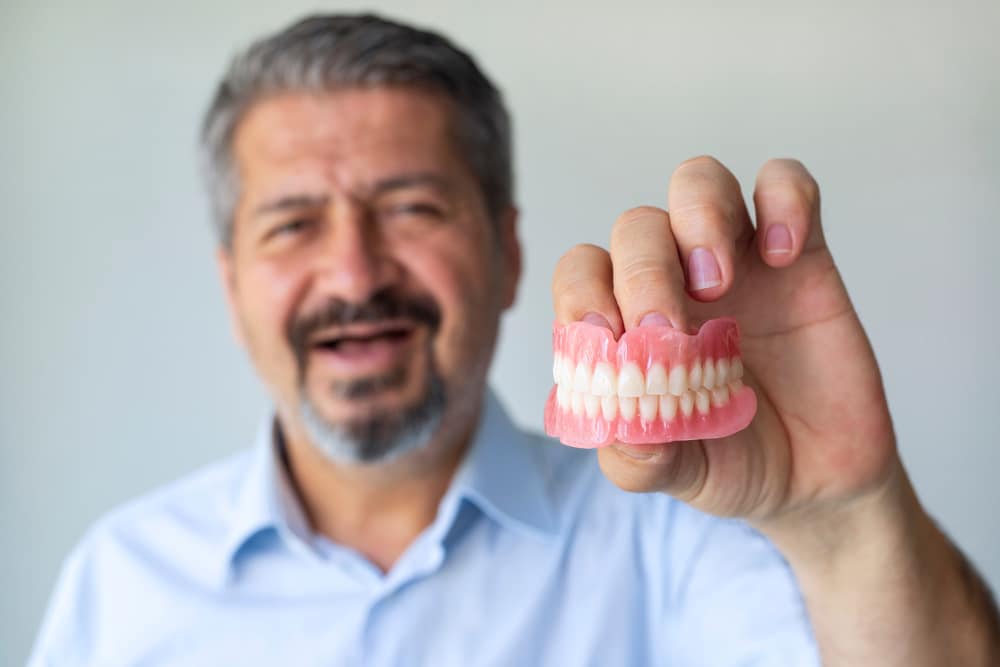 We have a solution for your unique needs
Keep your replacement teeth secure with implants
Keep your replacement teeth secure with implants
Rejuvenate Your Smile With Dentures in Vacaville
You may remember seeing an older relative's false teeth sitting in a glass soaking when they weren't in their mouth. If you are missing teeth, you should know that modern dentures in Vacaville, CA are much better than the ones from your childhood memories.
When you get your replacement teeth from us, you can count on them to:
Improve Your Confidence – You'll feel more relaxed with a complete smile, whether you are spending time in public or privately with family and friends.
Improve Your Appearance – Our dentures can keep you from looking older than you actually are.
Improve Your Diet – All dentures give you the ability to chew food again. By securing your dentures with implants, you will be able to bite and chew well enough to eat anything you would like.
Improve Your Health – When you are able to eat a variety of foods, you are more likely to get the nutrients you need to maintain your long-term health.
If you could use some new teeth, don't hesitate to make an appointment with one of our doctors. Call 707-607-8063 to visit the Center for Contemporary Dentistry. Unlike most dentists, we make dentures in an on-site lab. This means a faster turnaround time and internal quality control for the best results.
Find the Right Replacement Teeth for Your Smile
Dentures have been a part of restorative dentistry for decades. False teeth have been made of everything from ivory and stones to animal bones. Today, you can pick from a wide variety of options:
Partial Dentures – Replace a few missing teeth to complete your smile.
Full Dentures – Replace an entire arch of teeth with this kind of denture.
Implant-Supported Dentures – Using dental implants to provide added support will give you more power in your bite. These dentures can be removed for cleaning.
Implant-Retained Dentures – Keep your dentures completely secure by affixing them permanently to your implants. Only your dentist can remove them. You simply brush and floss to keep them clean.
All-on-4® Dentures – This advanced procedure uses just four carefully placed implants to keep you dentures in place.
Mini Dental Implants – Mini implants can be a cost-effective option to secure your replacement teeth.
It's time to start living life with a full set of teeth again! Get your dentures in Vacaville, CA at the Center for Contemporary Dentistry. Call 707-607-8063 or schedule online for your appointment.