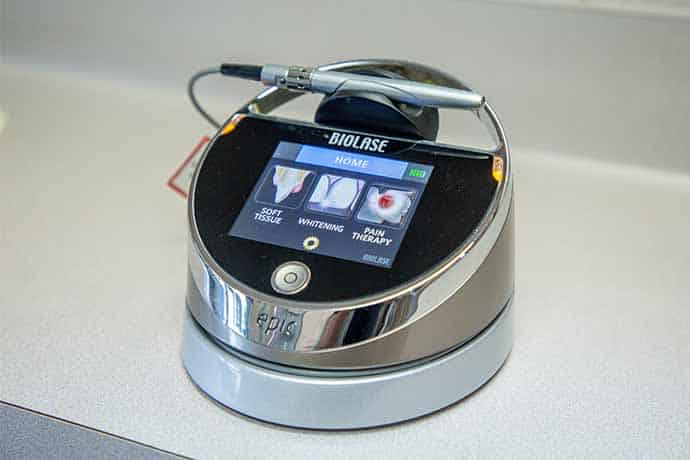 Our laser will gently treat your gum disease, whiten your teeth, ease your TMJ pain, and more! Lasers are at the forefront of dental technology, and you'll love the options available!
Enjoy more comfortable root canals, fillings, and gum tissue removal. Laser treatment is so comfortable that you won't need to be numbed while we work! It's a great option for kids, as well.
Get precise and efficient treatment. Our three laser options are so multifunctional that we use them all day every day! Laser dentistry makes even the most anxious patient feel more relaxed while we work.
Enjoy the Benefits of Modern Care With Laser Dentistry in Vacaville
While it may sound like something out of a science fiction movie, lasers are one of the many ways modern technology gives you a better experience at the dentist. With our laser dentistry in Vacaville, you will:
Experience more comfortable dental care
Avoid blades and sutures
Heal faster thanks to a less invasive procedure
Avoid the sounds of drills and other noises
Reduce your anxiety thanks to easier appointments
If you are ready for an advanced experience at the dentist, call 7707-607-8063 for an appointment.
Improve Your Oral Health With Comfortable Laser Treatments
You'll discover that we use lasers for many different procedures at our practice. Many nervous patients are happy to realize that their appointments are much easier thanks to our use of this technology.
We use different types of dental laser, including:
Fotana Laser – We use this incredibly powerful laser for the restorative treatment of hard and soft tissue. We also use it for endodontic procedures, implant procedures, and use the NightLase® to treat airway issues.
Biolase Waterlase Laser – This is a multi-functional laser that we use for endodontic procedures, implants, dental hygiene, and removing gum tissue. It is especially great for kids because you don't need to be numb! We also use this laser for cosmetic and restorative procedures.
Biolase Epic Laser – This diode laser is mainly used for soft tissue like removing gum tissue, preparing your gums for impressions, and periodontal procedures. We can also treat your cold sores, whiten your teeth, and provide relief from TMJ pain.
We use lasers for many treatments, including:
These are just a few ways that lasers can help your treatments. By investing in technology, we ensure your time with us is as stress-free and painless as possible.
Find out how laser dentistry in Vacaville can improve your dental care by calling 707-607-8063 to schedule an appointment or schedule online.