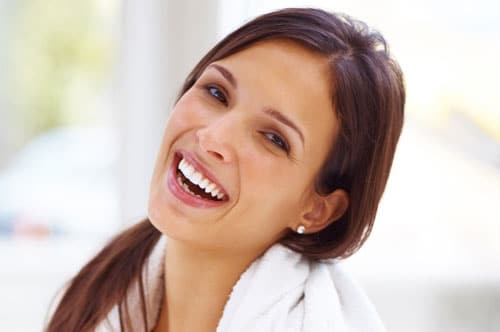 We'll create a wax model of your future smile, so you know what to expect. You can make changes, if needed, before treatment starts!
Select several cosmetic services at once to make over your whole smile. Get that confident grin you've always wanted!
Trust the expertise of Dr. Johnson. He has trained with some of the world's most skilled cosmetic dentists.
Turn Heads With the Help of Your Cosmetic Dentist in Vacaville
There's no shame in wanting a beautiful smile! It can make the difference in how others see you – but more important, how you see yourself. As your cosmetic dentist in Vacaville, Dr. Johnson has decades of experience beautifying smiles. He has trained with some of the world's top cosmetic dentists.
One of his teachers was Dr. Larry Rosenthal, "the dentist to the stars." You'll get the celebrity treatment when you visit us for your smile improvements. You will:
Enjoy a boost in your self-esteem and self-confidence
Enhance your appearance and look more youthful
Feel inspired to pursue new opportunities
Look better in photographs
Get improved oral health with straight teeth that are easier to clean
Don't wait another day to get your dream smile! Call today at 707-607-8063 to schedule a consultation.
Get a Gorgeous Grin With Our Comprehensive Cosmetic Solutions
By visiting the Center for Contemporary Dentistry, you'll find many options to fix those smile flaws you've been trying to hide. Based on your personal goals and budget, we may recommend one or more of the following:
Teeth Whitening – You can choose from at-home or in-office whitening, whichever is most convenient for you. Either way, you will experience professional results that you can't get from products purchased in a store.
Dental Veneers – These small, thin porcelain shells can cover chips, cracks, and stubborn stains. You have a choice of standard veneers or prepless veneers, which are a great option if you want a less invasive procedure.
Tooth Bonding – For a more budget-friendly solution to hiding imperfections, we offer two types of tooth bonding. In addition to conventional bonding, we offer an innovative process called Bioclear that gives you longer-lasting results.
Orthodontics – We offer two orthodontic options that use clear aligners instead of metal brackets and wires: Invisalign and ClearCorrect. Both will straighten your teeth in less time than braces.
Gummy Smile Treatment – If you show too much of your gums when you smile, we use a laser to quickly and easily give you a more balanced smile.
Tooth Contouring or Crown Lengthening – If you have uneven teeth or short teeth, our contouring and crown lengthening options can transform the appearance of your smile.
Smile Makeover – If you want one or more cosmetic treatments, we can work with you on a complete smile makeover. We'll give you a smile preview with a wax model so you know what to expect. It will give you the chance to make any changes before treatment starts.
If you are ready to achieve a beautiful smile, call us today at 707-607-8063 to schedule an appointment with a cosmetic dentist in Vacaville. You can also schedule online.
Discover a Solution to Your Smile Problems
If you don't like something about your teeth or gums, we'd love to work with you on perfecting their appearance. We offer several options that can correct:
Stained Teeth – If you have dull, drab teeth that have been stained due to aging, foods, beverages, or medication, we may recommend teeth whitening. It's one of the most popular treatment options and affordable too. If you want a long-term solution, you can choose veneers or our Bioclear tooth bonding.
Cracked or Chipped Teeth – To fix chips or cracks in your teeth, veneers or tooth bonding are wonderful solutions. We can do prepless veneers or standard veneers. Our Bioclear tooth bonding can last up to 10 years and is often more affordable than veneers.
Uneven Smile – If you have misshapen teeth, our tooth contouring can even out your smile. If you show too much gumline when you grin, our gummy smile treatment will gently remove excess tissue with a laser.
Crooked Teeth – You can show off straight teeth with the help of our orthodontic solutions. We offer Invisalign and ClearCorrect for fast, discreet results.