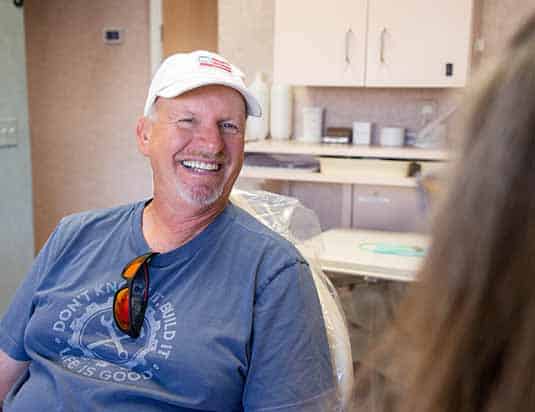 Keep your teeth intact by taking action early
Improve your breath & eat comfortably
Get healthy pink gums with pain-free treatment
Regain Good Oral Health With Gum Disease Treatment in Vacaville
It can be difficult to spot signs of gum disease in the early stages. That's why visiting us for checkups is so important! We'll monitor the health of your gums and recommend treatment if we notice signs of disease. With our gum disease treatment in Vacaville, you will:
Avoid potential tooth and bone loss
Improve your breath
Achieve better oral and overall health
Enjoy better confidence in the state of your smile
Heal quickly, thanks to our laser procedures
If you are concerned about your gums, call us today at 707-607-8063 for an appointment. Unlike many dentists, we offer treatments for both minor and more advanced cases of gum disease.
While it's difficult to spot the early signs of gum disease, it's important you pay attention to symptoms. For example, schedule a visit right away if you notice bleeding after you brush your teeth or floss, swollen or red gums, or bad breath that won't go away.
Enjoy a Healthy Smile With Laser Treatment Options
One of the many benefits of visiting us for your oral care needs is our use of the latest dental technology. To treat gum disease, we our Fotona Lightwalker laser treatment to eliminate the infection in your gums. Laser procedures are:
Less Invasive – Some forms of treating advanced cases of gum disease involve cutting into the gumline. However, with the use of lasers, there's no stitching or cutting at all.
Quick to Heal – Because there's no cutting, you'll experience minimal discomfort and healing is much faster. Plus, there's no bleeding and less swelling.
More Precise – Lasers repair and restore your gum tissue without harming any healthy gum tissue in your mouth.
Using a laser-assisted procedure called LANAP, we can actually regenerate healthy gum tissue. As a result, you can avoid the tooth loss that can occur with more severe cases of gum disease. While there is minimal discomfort with laser therapy for your periodontal treatment, we do offer sedation with laughing gas if you're nervous or concerned about discomfort.
For comfortable gum disease treatment in Vacaville, call us today at 707-607-8063 or schedule online.